Forged Rolls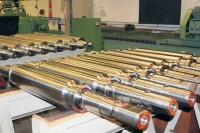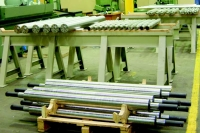 Sistemska tehnika has rich experience and long tradition in the production of forged rolls for cold rolling of sheet metal, strip and foil. We manufacture all kinds of trough and surface hardened rolls for cold rolling and straightening of sheets metal , steel strips and non-ferrous metals.
Dimensional range of roll production:
From 20 (0,79'') to 850 (33'') mm diameter
Up to 5500 (216'') mm length and
Up to 10.000 kg (22,000 lbs) weight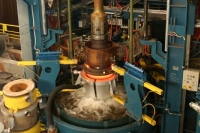 Dimensional range of roll production:
Application of ultra pure steels
Application of steels developed specifically for cold rolls
Computerized guidance and control of the volume and surface heat treatment processes
production of high quality rolls based on rich experience
Permanent and sustained efforts to improve quality and application of rolls in form of research and development
Application of modern ND inspection methods
Independent quality assurance system
Partnership relations with the customer based on experiences
Quality assurance
All business and production processes in Sistemska tehnika are led in accordance with ISO 9001:2008 and ISO 14001. Rolls must have proper hardness - depending upon roll type - usualy in the range between 52 to 67 HRC (73 to 103 HSc). Rolls provide a lot of specific properties like high rupture resistance, high wear resistance, resistance to spalling and exellent grindability and polishability.
Conversation table for hardeness scales
Sistemska tehnika